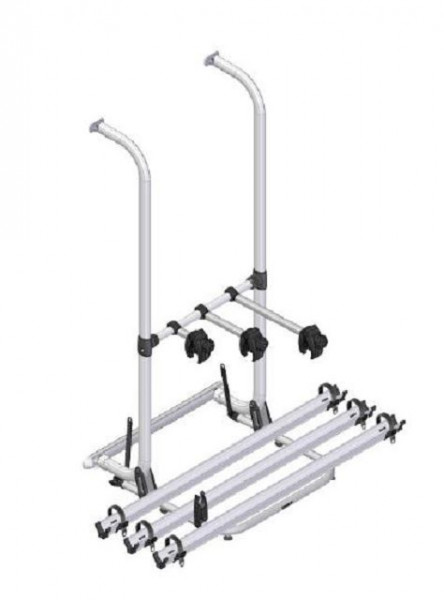 Bicycle rack for 3 bicycles
Recommended retail price including the applicable VAT. Prices may vary from country to country.
Simply send your noted products with the wishlist function to yourself, friends or your ETRUSCO trading partner!

ETRUSCO original accessories are not available ex factory, they are only available directly from your ETRUSCO licensed dealer. Images shown may be subject to modifications.
Suitable for vehicles manufactured by ETRUSCO
Model years 2017, 2018, 2019, 2020
Model range / model alcove, Integrated , Semi-Integrated
Bicycle rack for 3 bicycles
The bike rack was especially developed for Etrusco motorhomes.
Taking into consideration the maximum load of 60 kg 3 bikes can easily be transported with the rear bike rack. As the weight is distribued equally on the platform the stability is optimal. The Etrusco bike rack can be expanded to transport even 4 bikes.
Available for all motorhomes with a model year of 2017 onwards.
Material: aluminium/rail bracket out of powdercoated tubular steel
Four-point fastening
Maximum load: 60 kg
Weight: 8,4 kg
Installation height: 80-150 cm Maximum load per rail: 19 kg
Maximum load on the 4th rail: 15 kg
Write an evaluation
Evaluations will be activated after verification.