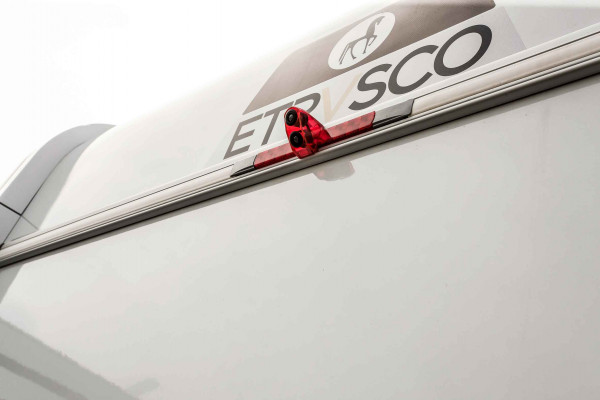 Recommended retail price including the applicable VAT. Prices may vary from country to country.
Simply send your noted products with the wishlist function to yourself, friends or your ETRUSCO trading partner!

ETRUSCO original accessories are not available ex factory, they are only available directly from your ETRUSCO licensed dealer. Images shown may be subject to modifications.
Suitable for vehicles manufactured by ETRUSCO
Model range / model alcove, Integrated , Semi-Integrated
Model years 2018, 2019, 2020
Double reversing camera
The double reversing camera is elegantly integrated into the 3rd brake light and assumes the visual appearance of the original brake light. This makes it hardly recognisable as a camera, which has both optical and practical advantages:
No additional holes in the rear wall!
The cables are fed into the interior via the existing hole for the brake light
Easy and quick assembly
Rearview mirror function
Further highlights:
Optional driving line display
Nano-sealed lens – no moisture penetration
TV system: NTSC / PAL
Total pixels: 756 X 504
Resolution: 550 TV lines
Power supply: 3 V
Horizontal angle: 100°
Improved night vision properties

Please pay attention that the adapter cables should be ordered separately (2539097, 2969298).
Write an evaluation
Evaluations will be activated after verification.